Pixelmator Hits $1 Million in Revenue on Mac App Store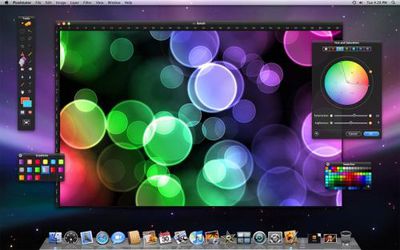 Pixelmator today
announced
that the company's photo editing application for Mac [
Mac App Store
] has grossed $1 million in the 20 days since the store's debut, marking a significant milestone for the already-popular application and over $700,000 for the application's developers after Apple's 30% cut of revenue.
I am ecstatic to announce that Pixelmator grossed a gigantic $1 million on the Mac App Store. And that happened in only 20 short days.
What is even better is that the app is getting rave reviews on the Mac App Store (4.5 stars with over 275 ratings on the US store, 5 stars with over 128 ratings in the UK, and 4.5 stars with over 129 ratings in Germany). And, thanks to the Mac App Store, more people than ever are choosing to download Pixelmator.
Pixelmator currently ranks as the fourth-highest grossing app on the Mac App Store, trailing only Apple's own Aperture, iPhoto, and Pages. The application has been able to combine a relatively high sales price of $29.99 with high-volume sales that currently see the application ranked 12th among paid applications in order to reach the $1 million mark in under three weeks.
While some developers have been worried about a "race to the bottom" when it comes to pricing as has happened in many cases on the iOS App Store, the current list of top grossing apps in the Mac App Store reveals that developers can succeed by offering quality applications at price points significantly higher than those seen for iOS applications. Of the top 20 grossing applications on the Mac App Store, only Angry Birds (#5) and Braid (#16), each checking in at $4.99, carry price points below $14.99.