Claimed SIM Tray for Next-Generation iPhone Points to Nano-SIM Standard
In line with recent claims that European carriers have been stockpiling nano-SIMs with some carriers even working with Apple to test the new, smaller cards ahead of the next-generation iPhone launch, Nowhereelse.fr shares [Google translation] a set of comparison photos showing what is claimed to be a nano-SIM tray for the next iPhone next to the current micro-SIM tray used in the iPhone 4S. If the part is legitimate, it indeed confirms that Apple will be using the smaller SIM card form factor that it worked to push through standards approval earlier this year.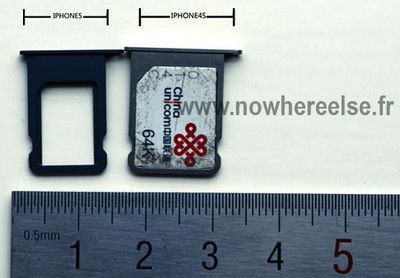 With new photos of the next-generation iPhone's SIM tray in hand, we have reexamined the photos from early May of what was also claimed to be the device's SIM tray, and we now believe that we were incorrect in our initial assessment that that part represented a micro-SIM tray nearly identical to that found in the iPhone 4S. While those photos did not show the side of the tray that holds the SIM card, the overall dimensions of the tray are in a ratio of roughly 1.55-1.6. This is in line with what is seen on the new nano-SIM tray shown by Nowehereelse.fr and different from the iPhone 4S micro-SIM tray that has dimensions in a ratio of approximately 1.37. The nano-SIM card itself has dimensions in a ratio of 1.4, compared to a ratio of 1.25 for the larger micro-SIM.


Consequently, it indeed appears has indeed been planning to use its proposed nano-SIM standard in the next-generation iPhone for a numbers of months, even before the standard was approved by the European Telecommunications Institute (ETSI).
Today's report also shares photos of what are claimed to be the white and black versions of the home button for the next-generation iPhone, and these photos are in line with previously-leaked photos from late April that represented the first of a number of part leaks claimed to be for the upcoming iPhone.