CBS Open to Talks on Apple TV, Depending on "What We Get Paid"
With the recent addition of Hulu Plus to the Apple TV platform, analysts are thinking of other video content that could be making its way to the product. Over the years, Apple has updated the Apple TV's software several times, occasionally adding new video content. In 2011, Apple added support for Vimeo, streaming NHL games, and Wall Street Journal videos.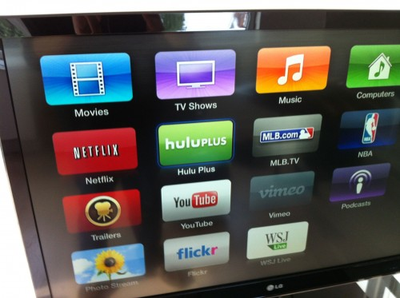 As noticed by All Things D, from a Seeking Alpha transcript, CBS CEO Les Moonves answered an analyst's question yesterday about offering CBS content on the Apple TV platform in the future:
Anthony J. DiClemente — Barclays Capital, Research Division

Okay. And then one for Les. You — I'm sure — you may have seen that Apple TV added Hulu onto its platform this week. I'm just wondering, when you think about Apple, are you in any way philosophically opposed to offering CBS on the Apple TV platform? And I know I — just from prior experience, I'm sure your answer will have something to do with getting paid for your content. But more specifically, is there anything you need to see or specifically anything you need to get in order to be convinced that that's a smart strategy for CBS?

Leslie Moonves

Look, Anthony, you've — we've had this discussion many times before. You're right, it depends what the terms are, it depends what we get paid for. It depends on what effect Apple TV would have on either our advertising, our syndication or our retrans, which are our 3 main buckets of revenue for our content. So if it sits in well, like Netflix did and Amazon did, we're happy to discuss it. If it doesn't and we're — they're using our content to build a business, we're not quite as favorable to that. So the devil is in the details. I know it sounds like a pat answer, but it's really true.
Perhaps the biggest competitor to the Apple TV's video streaming is from Microsoft's Xbox 360. The video gaming box has transitioned in recent years to much more of a content device, with Microsoft adding support for video content from Netflix, Hulu, ESPN, Comcast and Verizon FiOS. It is easy to see how adding those last three to the Apple TV could vastly expand the demand for Apple's set-top box, though the sticking point will be how to compensate both Apple and content providers.
Image from Sami