Apple TV Software Update Adds Streaming of Purchased TV Shows, Vimeo Support, and More [Updated x2]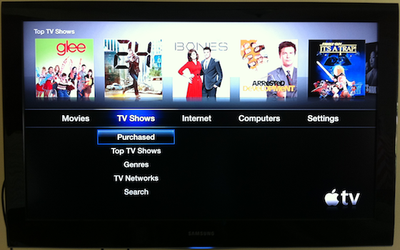 A number of MacRumors readers are reporting that Apple has just pushed out a new iOS software update for the second-generation Apple TV bringing support for several new features including streaming access to purchased TV shows and support for video service Vimeo. Daring Fireball's John Gruber explains the TV show feature:
You can buy — not just rent but buy — new episodes directly from your Apple TV, and access and stream any TV show episodes you've previously purchased using your iTunes account. (I'm not quite sure if it has all episodes — but it's showing me all the TV shows I can remember buying from iTunes.)
According to one report, however, the feature may be U.S.-only for the time being.


In addition to the purchased TV show support, the update also brings support for Vimeo video content and reportedly adds YouTube playlist support.
With the update, Apple TVs now report a software version of 4.3 (2557), while Apple's servers refer to the update as Build 8F455 of iOS 4.3.
Update: Apple has also added TV shows to the "Purchased" sections of iTunes on both iOS and Mac/PC applications. The addition allows users to freely re-download previously-purchased TV show content in the same way that Apple enabled the feature for music alongside its iCloud announcements in early June.
Update 2: Apple has now updated its Apple TV support document with information on the two main changes included in the 4.3 update.
- TV show purchases: Purchase TV shows on Apple TV. Shows purchased on Apple TV can be re-downloaded on other iOS devices. Shows purchased on other iOS devices or with iTunes automatically show up as available to play on Apple TV.
- Vimeo: Browse and watch millions of user-uploaded videos found on the Vimeo service, for free.