Apple-Twitter Talks Focused on Product Partnership, More iTunes Integration Likely
Late last week, The New York Times reported that Apple and Twitter had had discussions "in recent months" about Apple making a significant investment of several hundred million dollars in Twitter, but The Wall Street Journal and other sources moved quickly to downplay the rumor with claims that the talks had taken place over a year ago and did not lead to any serious consideration of an investment.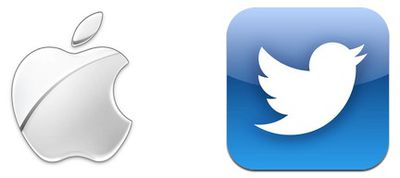 The Wall Street Journal now follows up with more details on the discussions between the two companies, noting that they were primarily focused on product integration such as appeared in iOS 5 last year and OS X Mountain Lion just last week.
Apple Inc. floated the idea of investing in Twitter Inc. as the companies discussed integrating the social service into Apple's mobile operating system last year, according to people familiar with the discussions.

Apple floated the idea at the time and it didn't progress into serious discussions or negotiations, this person and other people familiar with the matter said.
The report notes that Apple and Twitter continue to work closely together as they explore additional ways in which their products can be integrated, with iTunes being one of the areas where the two companies believe Twitter can have a larger presence as Apple moves to phase out its own Ping social network for music.
Apple and Twitter remain tight and continue to talk about future product integrations. They include more deeply melding Twitter and iTunes, according to two people briefed on the matter.
While Apple and Twitter were able to move forward relatively quickly on product integration, negotiations between Apple and Facebook have proceeded somewhat more slowly. Those two companies do, however, appear to have ironed out their differences, with Facebook integration set to come to iOS 6 and OS X Mountain Lion later this year.