More Rumors of Late September iPhone Launch with Details on iPad Mini, 4th-Gen iPad
iLounge offers a summary of various tidbits of information it has learned about Apple's upcoming iOS devices.
In line with fresh claims from iMore about a September 12 media event to introduce the next-generaton iPhone and iPod nano as well as the "iPad mini" ahead of a September 21 launch for the iPhone, iLounge says that Apple will be ready to ship the new iPhone by mid-September and could launch the device during the third week of the month. Apple is also said to be working on a pair of official cases for the new iPhone, including one that is similar to the current bumper and a second that would have a "major impact" on accessory makers. The report speculates that the case may include some sort of stand, but it is unclear whether that it is based on any actual information.
As for the iPod touch and iPod nano, iLounge believes that a new iPod touch sharing similarities to the new iPhone such as a taller 4-inch display will be making an appearance at the same event, while evidence for a new iPod nano still remains scant. Rumors of revamped iPod touch and iPod nano models have indeed been circulating in recent weeks.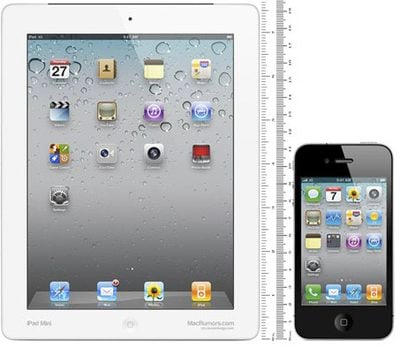 Mockup of 7.85-inch "iPad mini" next to an iPhone (courtesy of CiccareseDesign)
Regarding the future of Apple's iPad line,
iLounge
claims that the new "iPad mini" will not be ready for launch alongside the new iPhone in late September and may instead launch in November. While
iMore
believes that the device will at least be introduced alongside the new iPhone,
iLounge
is unsure whether it will be included during the September media event or if Apple will hold a separate event for the device a bit later. Apple is also said to be developing versions of its Smart Cover and Smart Case for the smaller iPad.
Apple's fourth-generation full-size iPad is unsurprisingly said to be seeing a move to the smaller dock connector that will debut with the next-generation iPhone, but is also said to offer only "relatively modest" tweaks to the design while also seeing the addition of a rear microphone for better audio capture while shooting video or perhaps for noise cancellation purposes.
iLounge's source seems a bit unclear on the timing for a fourth-generation iPad launch, suggesting that it could come late this year alongside the iPad mini but agreeing that the timing seems unlikely. Consequently, speculation points to an iPad mini launch late this year, followed by an iPad update early next year in line with its traditional life cycle.
iLounge has proven fairly accurate with its rumors, pinpointing a thicker third-generation iPad shell and Apple's new Smart Case for the iPad.