Last December, Apple opened a massive new retail store in Manhattan's historic Grand Central Terminal, adding a high-profile presence to the busy commuting, tourist, and shopping hub. Apple's lease agreement with the Metropolitan Transportation Authority (MTA) was quickly questioned by government officials, who were concerned that Apple had received favorable treatment during the negotiations and was paying significant lower rent than would otherwise have been expected for the location.
The MTA countered those claims with its own statements outlining how Apple is paying four times as much rent as the restaurant it replaced while also paying $5 million to the restaurant to vacate its lease and investing in building upgrades for the new store. The agency also argued that Apple's presence would indirectly boost terminal revenue through increased traffic at other merchants that, unlike Apple, pay a portion of their revenue to the terminal.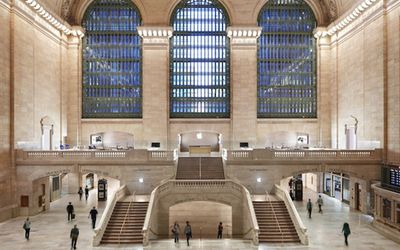 But the New York Post now reports that a state audit of those lease negotiations has determined that Apple did indeed receive an "unfair" edge in what was supposed to be an open competition for the space.
A fresh audit by state Comptroller Thomas DiNapoli says the MTA last May allowed the California-based tech giant to set a daunting hurdle for rival bidders to clear in a tight, 30-day window — namely, that they be willing to front $5 million in cash.

"The competitive process followed by MTA . . . was at a minimum severely slanted toward Apple," reads the report, submitted to MTA officials Friday and expected to be made public today.
The state comptroller's office has announced the release of the audit report, revealing that Apple and the MTA had been in negotiations for the space for over two years and that Apple had already made payments to the vacating restaurant before the space was publicly opened for proposals.
"While Apple may turn out to be a good tenant, the MTA set a troubling precedent when it played favorites and gave Apple a competitive edge over others for the Grand Central space," DiNapoli said. "Apple was directly involved in setting the terms of the lease and given exclusive access to information more than a year before any other vendor knew the Grand Central location was available. The company even signed a $2 million agreement with the current tenant to vacate its space five days before the MTA issued the RFP.
In response to the audit, the state is proposing increased oversight on competitive public authority contracts, a move which give the comptroller's office more authority to examine such agreements before they are finalized.
In a statement responding to the audit, MTA Chairman and CEO Joseph Lhota called the results "not fact-based" and "worthless", also accusing the comptroller's basis of "overt bias" against both the MTA and Apple in declaring that the process was not open and transparent.