Apple's Grand Central Terminal Store Opens December 9th, State Probing Lease Deal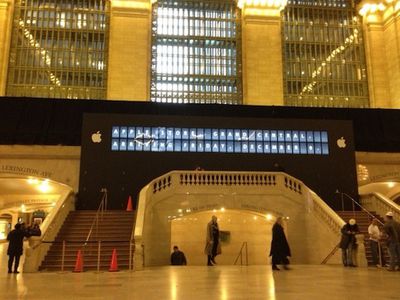 In line with previous rumors, Apple has officially revealed that its massive new retail store inside Manhattan's Grand Central Terminal will be opening on Friday, December 9th. The opening date was made official today with an updated message on the digital signage installed on the construction barrier surrounding the store.
Apple Store, Grand Central.
Arriving Friday, December 9.
One MacRumors reader has also provided us with an overhead shot of a portion of the store, revealing that Apple has installed the wood tables where it will display its products for customers to test out. A small portion of the store's Genius Bar can also be seen in the photo.


Meanwhile, in the wake of yesterday's disclosure of Apple's lease terms for the store, which total $60 per square foot and no revenue sharing with the Metropolitan Transportation Authority, The New York Post now reports that the State of New York is investigating the deal.
State Comptroller Thomas DiNapoli has launched an investigation into whether the Metropolitan Transportation Authority (MTA) gave Apple overly generous terms on its lease for the shop, which is slated for a splashy opening next week.

...

"The article in the New York Post about the MTA's contract with Apple in Grand Central Terminal is a cause for concern," DiNapoli said in a statement yesterday. "This is a prime property, and I intend to make sure that the MTA hasn't given away the store."
The MTA has pointed out that Apple is paying four times the rent paid by the previous tenant, the restaurant Metrazur, and that Apple is investing in new infrastructure, including an elevator, to support the store.
In addition, Apple paid $5 million to Metrazur in order to buy out the restaurant's lease, with the MTA arguing that the payment makes Apple's 10-year lease on the store equivalent to $180 per square foot in annual rent. But even considering that payment, which does not go to the MTA, Apple's lease rates remain below that of many other tenants in the terminal and well below market rates charged in other prime shopping areas of Manhattan.