Apple's OS X Mountain Lion Up-to-Date Program Experiencing Early Hiccups
With today's launch of OS X Mountain Lion, Apple's Up-to-Date program has officially gone live. The program allows any user who purchased a Mac on or after June 11 to receive a free upgrade to OS X Mountain Lion if their system came with OS X Lion preinstalled. Customers who purchased server models such as the Mac mini server and Mac Pro server configurations can also receive free upgrades to Apple's latest server tools released alongside Mountain Lion.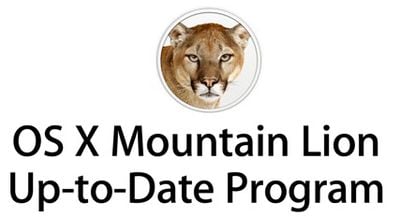 Apple is apparently experiencing some early difficulties with the program, however, with some users reporting that their Mac App Store redemption codes for OS X Mountain Lion are not working and others still waiting to receive their codes. Some users were able to obtain codes earlier this week when the program briefly went live prematurely, but the redemption difficulties appear to be affecting both early recipients and new applicants.
Apple support staff have acknowledged the difficulties and are advising customers that they may need to wait up to three days to receive replacement codes, although some replacement codes are reportedly already coming through without any action required by the users. Submitting the up-to-date program application a second time fails to generate new codes, as Apple's systems recognize that the machine serial numbers have already been used and thus refuse to complete the repeat applications.
Customers who purchased new Macs between June 11 and today have until August 24 to claim their redemption codes for OS X Mountain Lion, but many are undoubtedly anxious to install the new operating system as soon as possible. Users who purchase new Lion-equipped Macs starting tomorrow will have 30 days from the date of purchase in which to claim their free upgrades to Mountain Lion.