OS X Mountain Lion Distributed to AppleCare Representatives Ahead of Public Launch
With just over a week left in the month of July that is expected to see the launch OS X Mountain Lion, 9to5Mac reports that Apple has officially distributed the final version of OS X Mountain Lion to members of its AppleCare support team. The company has provided employees with Mac App Store download codes to allow them to install the forthcoming operating system on their main work machines.
AppleCare representatives have been testing OS X Mountain Lion on special Macs and via remote computing for the past few weeks, but today's news marks that the OS X Mountain Lion Golden Master seed has been supplied to representatives to be installed on their main work Macs.

The OS was supplied today to all AppleCare employees via a Mac App Store redeem code. Employees who have installed the build have confirmed that their seed is build 12A269, the same build provided to developers on July 9th.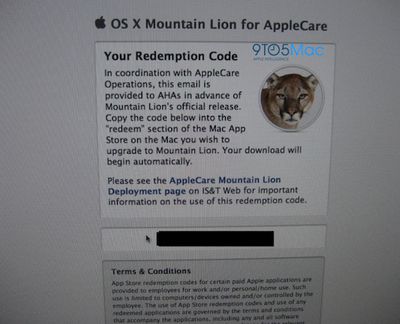 Apple has yet to announce an exact launch date for OS X Mountain Lion beyond "July", but it appears that it could be targeting this Wednesday, July 25, with an announcement perhaps coming on the company's earnings conference call the day before. Apple used a similar launch strategy last year for OS X Lion, announcing as part of the introductory remarks for its earnings conference call that the operating system would launch the following day.