Verizon Introduces 'Share Everything' Service Plan for Up to Ten Devices
Verizon today announced the launch of a new "Share Everything" pricing structure designed to allow users to share monthly data allotments across multiple devices. The plan, which is rolling out on June 28, includes unlimited voice and messaging across all devices, with an overall data cap and number and type of devices being the only differentiating factors among pricing tiers.
Each device carries a base monthly access charge ranging from $10 for a tablet to $40 for a smartphone. A single data charge is then applied on top of that base amount, starting at $50 for 1 GB and ranging up to $100 for 10 GB. Mobile hotspot functionality within the data cap is also included at no extra charge.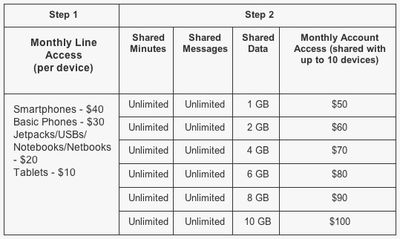 Compared to Verizon's existing plans, the new Share Everything plan appears to represent a solid value even for single-device customers interested in unlimited minutes and texting, but less so for other customers.
Under Verizon's current pricing, a customer would pay a total of $120 per month for unlimited minutes ($70), unlimited messaging ($20) and 2 GB of data ($30). Adding mobile hotspot functionality costs an additional $20 but increases the total data cap to 4 GB.
With the new Share Everything plan, a customer would pay $100 per month for the same service: $40 smartphone access and $60 for unlimited minutes and messaging and 2 GB of data. With mobile hotspot functionality included at no additional charge, stepping up to the 4 GB plan would cost just $10. In addition, a user could add an iPad to his or her account for just $10 per month with no contract requirement, as long as it was drawing from the same data allotment as the user's phone.
The plans are not as good of a deal for users with packages of lower numbers of minutes. A user with 450 minutes, unlimited messaging and 2 GB of data would pay $90 under current plans, compared to $100 under Share Everything, although the new plan does offer mobile hotspot at no additional charge. Current plans also offer a range of messaging options from pay-per-use up to unlimited, allowing lower-use customers to cut their monthly bills even further.
As the balance of smartphone usage shifts increasingly toward data and away from voice minutes, carriers are seeking to simplify the voice and messaging aspects of their plans to focus on data allotments as the primary differentiator among their plans. The shift is a reversal from the previous model in which customers selected from a number of options for voice minutes and then received unlimited data for a set monthly charge. In addition to Verizon, AT&T has also expressed its preference for this new model, while Sprint, the third major iPhone carrier in the United States, has indicated that it remains committed to its unlimited data offerings.