Tim Cook at Sun Valley Conference, 'Looking Forward' to Meetings with Media Executives
The New York Times reports on Apple CEO Tim Cook's presence at the annual Allen & Co. media conference in Sun Valley, Idaho, noting that he is easily earning the title of "Mr. Popular" due to Apple's rare presence at the event.
The conference, full of media bigwigs, has also been buzzing about any blueprints Mr. Cook may be hiding in Apple's magic hat. He has lined up several one-on-one meetings with media executives here, fueling speculation that he is busy cobbling together partnerships for a home entertainment expansion.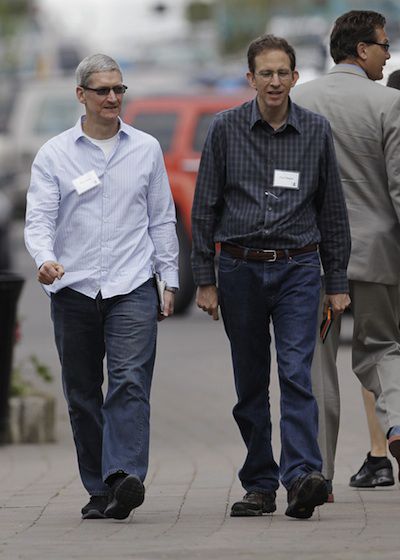 Tim Cook and Akamai CEO Paul Sagan at Allen & Co. conference (Credit: Paul Sakuma/AP)
Cook has been keeping a relatively low profile at the conference so far, but he did note that he was "looking forward" to those meetings.
When asked what he was looking forward to at the conference, Mr. Cook smiled. "I'm looking forward to all the private discussions I've set up this week," he said.

Would he have time for coffee with DealBook?

The polite Mr. Cook simply replied, "Probably not."
Steve Jobs was occasionally found on the invitation list for the Sun Valley conference, including as late as 2010, but his last appearance at the event came in 2005.