Microsoft to Acquire Multi-Touch Pioneer Perceptive Pixel
Microsoft today announced that it intends to acquire Perceptive Pixel, a company founded by multi-touch pioneer Jeff Han and currently focused on large-screen touch displays such as those used by CNN and other television networks to allow anchors to present live, interactive data on set.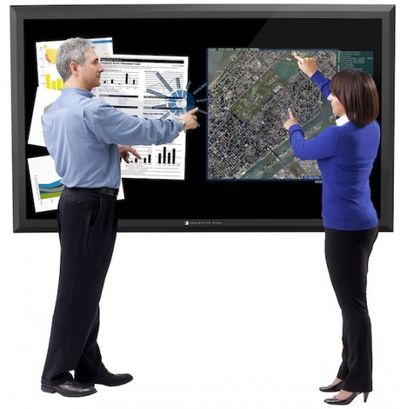 We've featured Han's work a number of times over the years both before and after the launch of the iPhone as examples of what could be done with the technology.
While Han was not involved in Apple's multi-touch efforts, which were based in significant part on the efforts of
FingerWorks
, his work has been looked to as some of the key early examples of the potential for multi-touch input technology in action.
Founded in 2006 by Jeff Han, a renowned pioneer in multi-touch technology, PPI shipped its first multi-touch workstation and large wall solutions in early 2007. In 2008 its technology gained widespread recognition for transforming the way CNN and other broadcasters covered the 2008 U.S. presidential election. In 2009 the Smithsonian awarded the company the National Design Award in the inaugural category of Interaction Design. PPI's patented technologies are used across a wide variety of industries such as government, defense, broadcast, energy exploration, engineering and higher education, and its expertise in both software and hardware will contribute to success in broad scenarios such as collaboration, meetings and presentations.
Microsoft is no stranger to the market either, having launched its "Surface" tabletop multi-touch screens back in mid-2007. While that effort did not lead to significant success, Microsoft just last month relaunched the Surface brand for its forthcoming portable tablet devices running Windows 8.
The addition of Perceptive Pixel will strengthen Microsoft's patent holdings in the area of multi-touch input, as well as provide the larger company with expertise that will help it to develop new tools for collaborative work with its multi-platform Windows 8. Microsoft is planning for a general release of Windows 8 by the end of October, with pricing and availability on its Surface tablet hardware yet to be announced.