Sprint's Share of iPhone Sales at Big Box Retailers Double That Seen at Apple Retail Stores
AllThingsD reports on an interesting survey from Consumer Intelligence Research Partners (CIRP) studying the balance of iPhone sales among the three major U.S. carriers at various points of sale such as Apple's retail stores, Best Buy, and warehouse clubs and mass market retailers.
The survey shows that AT&T remains the clear market leader for the iPhone in the United States, registering at 62% in aggregate and followed by Verizon at 26% and Sprint at just 12%. But the most interesting data pertains to the Sprint iPhone specifically, which represents just 9% of Apple retail store iPhone sales compared to 18-19% at other retailers.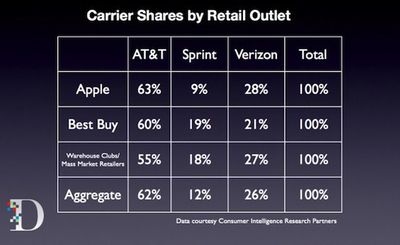 The report suggests that legacy availability is the prime reason for the difference in popularity at the different sales outlets, with customers likely to return to their previous points of purchase when it comes time to buy new phones and remain loyal to their carriers. With Sprint being the newest entrant of the three when it comes to the iPhone, its customers tend to return to Best Buy and other long-time Sprint retailers to purchase an iPhone rather going to an Apple retail store.
In other words, if you bought an iPhone from Apple on AT&T or Verizon and you return to the store to buy another, you're not likely to switch carriers. And since Apple Stores have sold only AT&T and Verizon iPhones for so long, Sprint's seeing a bit less traction there than it is at retailers like Best Buy, where it has had a longer-term presence.

"Sprint is really suffering from being third to the dance," CIRP partner Michael Levin told AllThingsD. "At the Apple Store and other carrier-agnostic retailers, there is still very little switching, and Sprint just doesn't have enough existing customers walking through the door. … AT&T's installed base of iPhone customers and Verizon's huge, satisfied customer base are proving a barrier to Sprint growing its market share."
Beyond the three major carriers, Apple has also been expanding its reach by bringing the iPhone to a number of smaller regional and super-regional carriers, and most recently began an expansion into the U.S. prepaid market with Cricket last week and Virgin Mobile USA later this week.