Dr. Ed Catmull and Larry Ellison Remember Steve Jobs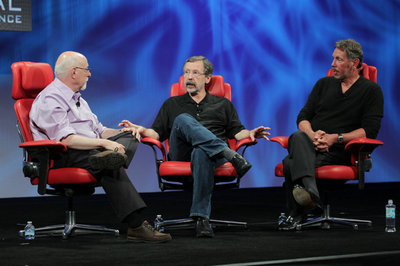 Steve Jobs was a frequent guest at All Things D's annual D Conference, appearing six times with D hosts Kara Swisher and Walt Mossberg. After he passed away last year, Swisher and Mossberg felt it was important to have a session honoring Jobs and his legacy.
They asked Dr. Ed Catmull, who worked with Jobs for years at Pixar, as well as Larry Ellison, the legendary CEO of Oracle who was one of Jobs' closest friends, to appear and reflect on Jobs' life.
Dr. Catmull also did a
separate one-on-one interview
with Kara Swisher. He discussed the history of Pixar, computer animation, and shared some fascinating stories about his experiences working with Jobs at both Pixar and Disney.
Image courtesy Asa Mathat/All Things D