Running the Retina MacBook Pro at Full 2880x1800 Resolution
While Apple's new Retina MacBook Pro includes a display measuring 2880x1800 pixels, the default display options do not allow users to run their systems at that raw resolution. Instead, the extra pixels are used to display a higher level of detail on a canvas representing the previous 1440x900 resolution. As a result, windows and user interface elements appear to be the same relative size as on a 1440x900 15" display, but with four times the detail. Users who wish to use a desktop with apparent resolution higher than 1440x900 can still do so, as System Preferences offers
several different options
ranging up to 1920x1200.
Those users who want even more screen real estate by tapping into the full 2880x1800 resolution mode of the display can also do so, but the option involves a workaround that is not authorized by Apple.
Macworld has more details
on the process, which involves using either a third-party app like the paid
SwitchResX
(as
noted in our forums
) or one of a number of free options that have sprung up such as
Change Resolution
.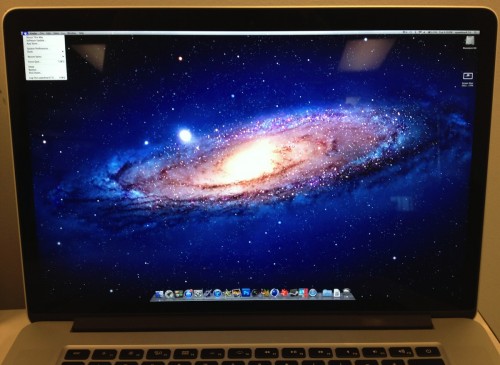 Retina MacBook Pro running at 2880x1800
(Click for larger)
Running a 2880x1800 desktop on a screen measuring only 15.4 inches diagonally obviously results in very small text and user interface elements, but for those willing to sit close enough to their screens to make the onscreen content readable, it may be an interesting option.
As
noted
by developer Steven Troughton-Smith, users running Windows on the new Retina MacBook Pro can also take advantage of the full display resolution, simply setting the resolution in preferences within Windows.