Apple's Smaller iOS Device Dock Connector Said to Include 19 Pins
Back in February, iMore reported that Apple was working on a smaller dock connector for its iOS devices, seeking to shave the size of the current 30-pin connector in order to allow its devices to shrink further and to provide space for other components.
Rumors of the smaller dock connector have persisted in the months since, and with claimed rear shells for the next-generation iPhone showing a smaller opening for the dock connector it does appear that Apple will be rolling out the new design with its next iOS device launch.
TechCrunch now reports that it is hearing more about the smaller connector, including word that it will include 19 pins for connectivity.
Although the form factor and actual size are still unknown, TechCrunch has independently verified that Apple is working on adding a 19-pin port, replacing the current 30-pin port, to the new iPhone. It is a move that will surely send shocks through the iPhone accessory ecosystem.
TechCrunch's report comes as Mobile Fun shares several case drawings and renderings from a case manufacturer who is betting that the parts leaked so far will prove to be genuine.
One manufacturer we spoke to said that he was sure that the leaked images were accurate – so sure that he was already preparing to construct iPhone 5 cases and he'd be willing to ship replacements for free if they turned out not to be perfect. He enumerated three big changes from the old iPhone 4S to the iPhone 5:

1. The phone is much bigger, measuring 58.47 mm wide, 123.83 mm high and 7.6 mm thin. The screen is 4″.
2. The earphone jack has been relocated to the bottom of the phone.
3. The dock connector is much smaller, similar in size to micro USB.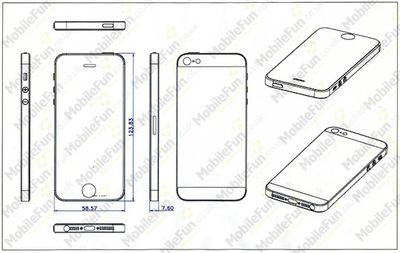 Based on the post, the drawings and renderings seem to have been created by the case manufacturer as it works to design its cases for the already-leaked form factor, and thus do not appear to be actual design leaks from Apple's supply chain.


Case designs were of course one of the primary sources for rumors of a dramatic "iPhone 5" redesign last year, a design that did not come to pass as Apple kept the basic iPhone 4 form factor and instead upgraded the internals to yield the iPhone 4S.
But the situation is different this year, with the rumors being driven by what appear to be legitimate leaks of actual parts and case manufacturers now responding to those leaks rather than driving the rumors themselves in the absence of part evidence as they did last year.
Update: Robert Scoble has added his thoughts in a comment on TechCrunch's post, claiming that he has learned from an industry contact that Apple's new dock connector will be magnetic much like the MagSafe connector used on Mac notebooks and that it will include chips to verify licensing of accessories to be used with the devices.