Retina MacBook Pro Shipping Estimates Slip to 3-4 Weeks as Initial Shipments Begin
Shipping estimates for the Retina MacBook Pro continue to slip, with new orders now estimated to ship in 3-4 weeks across Apple's online stores. The slip to 3-4 weeks comes roughly 24 hours after they slipped to 2-3 weeks.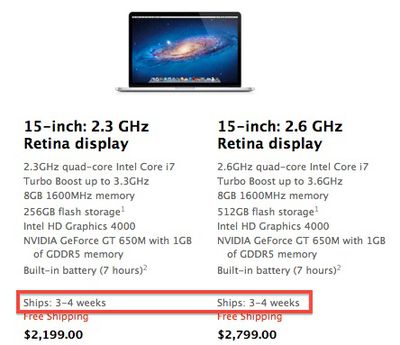 But while new orders will take some time to arrive, some of those who were able to order their machines soon after the online store came back up on Monday are beginning to see their orders ship. One MacRumors reader passed along his tracking information showing that FedEx has picked up his shipment in Shanghai as it heads for the United States with an estimated delivery date of June 18.


Apple retail stores have reportedly begun receiving display models of the new Retina MacBook Pro, but stock remains in flux. Most stores have yet to receive their shipments and are unsure how many and which models they will be receiving. Supplies will undoubtedly be tight in the early days, but should ease as Apple ramps up production and moves its stocks out to the stores for distribution.