Shipping Estimates on New Retina MacBook Pro Slip to 2-3 Weeks
While Apple announced at yesterday's introduction of the MacBook Pro with Retina display that the new models were shipping immediately, those who failed to move quickly to place their orders have seen shipping estimates quickly lengthen. Early estimates came in at 5-7 business days yesterday before moving to 7-10 business days and finally settling late yesterday at 2-3 weeks.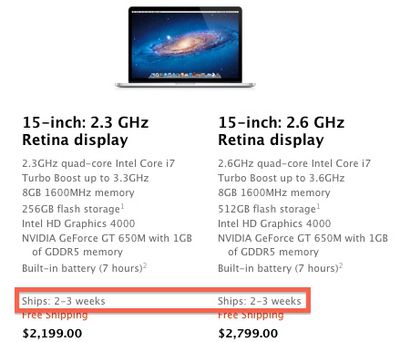 The same 2-3 week estimate appears to apply to all configurations and customizations on the new Retina MacBook Pro, and the company is not yet offering in-store pickup options on the new machines. Limited stock is making its way to Apple's retail stores, but those looking to customize their orders or guarantee availability with online ordering for pickup are currently left out.
Apple's new non-Retina MacBook Pro and MacBook air models remain in stock for immediate shipment through the Apple online store, with customizations pushing those models out to 1-3 or 3-5 business days depending on the options chosen.