Benchmarks for Mid-2012 MacBook Pro and MacBook Air
With the first Mid-2012 MacBook Pro and MacBook Air models reaching the public, Primate Labs has collated some data from its Geekbench 2 benchmarking database to assess the raw performance of these systems compared to their predecessors.
For the MacBook Pro, Primate Labs has data on four different models: the new Retina model with 2.3 GHz and 2.6 GHz processors and the non-Retina model with 2.3 GHz and 2.7 GHz processors. The top-of-the-line 2.7 GHz system registers with a Geekbench average score of 12,303, roughly 16% higher than the top-of-the-line 2.5 GHz Sandy Bridge system from the previous generation.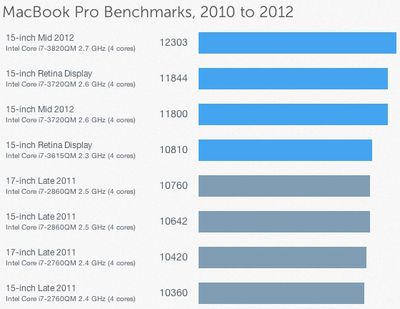 Notably, the leaked MacBook Pro benchmark from mid-May does appear to have been legitimate, with details corresponding to the new non-Retina 15-inch MacBook Pro. That machine is designated MacBookPro9,1, while the 13-inch model is designated MacBookPro9,2. The Retina MacBook Pro appears as MacBookPro10,1.
On the MacBook Air side, top-of-the-line systems are seeing boosts of over 20% in Geekbench scores over their corresponding predecessors. As with the MacBook Pro, even the low-end systems of the new generation outperform the high end of the previous generation.


Geekbench testing focuses on processor and memory performance, providing comparisons of raw power between machines but only telling part of the story. But with these machines seeing significant boosts in graphics performance with the addition of Intel HD 4000 integrated graphics and/or the NVIDIA GeForce GT 650M, and systems with solid-state drives using faster drives than in the previous generation, real-world performance should see marked improvement.