Matrox Announces DS-1 Thunderbolt Docking Station for $249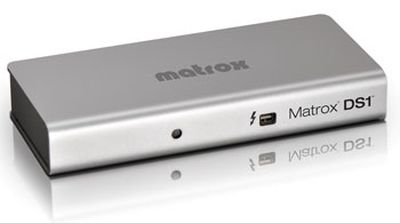 Matrox has announced a new Thunderbolt docking station for MacBooks and Ultrabooks.
From a single Thunderbolt connection, users can add multiple peripherals including a large DVI or HDMI® display, a full-size keyboard, and a mouse. A gigabit Ethernet port provides connectivity to a wired corporate network, enabling data transfers 18 times faster than Wi-Fi™. One SuperSpeed USB 3.0 port, two USB 2.0 ports, a microphone input, and a speaker/headphone output are also provided. With its solid aluminum construction, yet sleek design, Matrox DS1 is ideal for office, dorm, or home use.
At a proposed price of $249, the Matrox DS-1 comes in cheaper than Belkin's $299 solution that is due this fall. Matrox's unit lacks a couple of ports (additional Thunderbolt, and Firewire) that are found on Belkin's dock. The DS-1 comes with DVI, Gigabit Ethernet, USB 3.0, (2) USB 2.0, Audio Output, Audio Input, and Power connectors:


The Matrox does carry a high speed USB 3.0 port that is absent on Belkin's unit. The addition of that port may make the dock more appealing to PC/Ultrabook customers. It's not clear, however, from Matrox's site if the USB 3.0 port is functional on a Mac. (*Update)
In the past, USB 3.0 support on the Mac has required the installation of 3rd party drivers. These drivers are generally provided by the hardware manufacturer.
Apple has been rumored to be including USB 3.0 support in their next generation MacBook Pros which are due this summer. If that does come to pass, the USB 3.0 port on Matrox's dock may work with Apple's own bundled USB 3.0 drivers.
The Matrox DS-1 Thunderbolt docking station will be available worldwide in September for $249.
Update: Matrox has informed us that MacBooks will be able to take advantage of the USB 3.0 port.