CES 2012: Belkin Thunderbolt Express Dock to Launch in September at $299
Last September, we noted that Belkin was showing off a new Thunderbolt docking station at the Intel Developer Forum (IDF), preparing to offer users a single-cable dock connection three USB ports, a Gigabit Ethernet port, and a FireWire port, as well as inbound and outbound Thunderbolt ports for daisy chaining.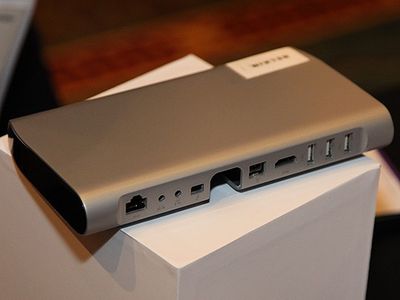 Belkin Thunderbolt Express Dock (Source: HardwareZone.com)
Belkin is once again previewing the Thunderbolt Express Dock at CES this week, but has
announced
that it will not begin shipping until September of this year and will be priced at $299.
Belkin Thunderbolt Express Dock - $299

- Quickly connects into a desktop workstation and instantly accesses multiple devices with a single cable
- Adds reliable, gigabit Ethernet connectivity to your laptop
- Includes three USB 2.0 ports, one Firewire 800 port, one HDMI port, one 3.5mm Audio port, one gigabit Ethernet port and two Thunderbolt ports (one upstream and one downstream) for daisy-chaining to another Thunderbolt compatible device.
- Utilizes Thunderbolt Technology for data transfer rates of up to 10Gbps bi-directionally
The company had previously claimed following the publicity surrounding the dock's appearance at IDF that it would begin shipping in "spring 2012".
Apple offers similar docking functionality built into its Apple Thunderbolt Display. The $999 27-inch display includes three USB ports, a Gigabit Ethernet port, a FireWire 800 port, a FaceTime HD camera, and a 2.1 speaker system, all connected to the user's computer over a single Thunderbolt cable.