New Nano-SIM Standard Approved, 40% Smaller Than Micro-SIM
As noted by The Verge, the European Telecommunications Institute (ETSI) today announced it has adopted a standardized design for the next-generation "nano-SIM". The new design is 40% smaller than the current micro-SIM standard.
Today's SIM card designs take up a significant amount of space inside a mobile device. This space is more and more valuable in today's handsets which deliver an ever increasing number of features.

The fourth form factor (4FF) card will be 40% smaller than the current smallest SIM card design, at 12.3mm wide by 8.8mm high, and 0.67mm thick. It can be packaged and distributed in a way that is backwards compatible with existing SIM card designs. The new design will offer the same functionality as all current SIM cards.
The design selection was heavily contested, with a proposal from Apple being opposed by a number of other mobile phone manufacturers despite Apple having the support of many European carriers. As the selection process continued, Apple slightly tweaked its design while the opposing carriers made changes to their own proposal that brought their design much closer to Apple's.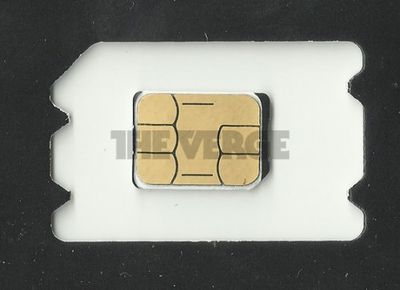 Prototype of Apple's proposed nano-SIM design inside outline of a mini-SIM card (Source: The Verge)
The Verge
notes that by the time final selection was made the only difference in external design between the two proposals was a notch included in the side of the card proposed by the coalition of manufacturers opposing Apple. And with the ETSI yet to publish any other details on the approved design beyond overall measurements, it is not yet clear which design won out.
Unfortunately, both Apple's design and the more recent Motorola / RIM compromise design are exactly the same exterior dimensions — the only difference is that the update submitted by Apple's competitors includes an extra notch to enable so-called "push-push" mechanisms in SIM slots that wouldn't necessitate a tray. Until ETSI publishes the specs, we won't know which of the two was chosen.
The ETSI specifically refused to comment on which group's design was chosen, noting only that a collective decision by the industry yielded the final standard.
Update: IDG News Service reports that Apple's design was indeed the winning standard.
Apple has won a battle over the standard for a smaller SIM card, use of which would leave more room for other components in future phone designs. [...]

ETSI isn't releasing any further details of the vote or the winning specification, only saying that the decision had been made, according to a spokesman at the standards organization. The proposer of the winning specification was identified by card maker Giesecke & Devrient, which had a representative on the committee.