Verizon Clarifies Discontinuation of Grandfathered Unlimited Data: Applies to New Subsidized Devices
Verizon yesterday made headlines for comments from Chief Financial Officer Fran Shammo revealing that the carrier is planning to discontinue its grandfathered unlimited data plans when the carrier rolls out new shared data plans this summer. Verizon dropped those unlimited data plans within months of introducing the iPhone early last year, but customers who had previously been on the unlimited plans have been allowed to keep them, even through handset upgrades.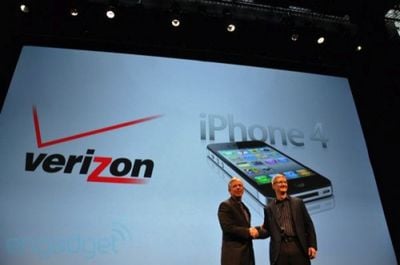 Tim Cook and Verizon Wireless CEO Dan Mead introduce the Verizon iPhone in January 2011
Verizon
issued a clarification
to
The New York Times
today, noting that the loss of grandfathered unlimited plans will be limited to those customers purchasing new subsidized devices for use on the carrier. Users who do not upgrade their devices or who choose to upgrade at unsubsidized prices will be able to keep their unlimited data plans. Still, the change would appear to be set to affect the majority of Verizon's current unlimited data customers, as most customers are interested in regular handset upgrades at subsidized prices.
- Customers will not be automatically moved to new shared data plans. If a 3G or 4G smartphone customer is on an unlimited plan now and they do not want to change their plan, they will not have to do so.

- When we introduce our new shared data plans, Unlimited Data will no longer be available to customers when purchasing handsets at discounted pricing.

- Customers who purchase phones at full retail price and are on an unlimited smartphone data plan will be able to keep that plan.

- The same pricing and policies will be applied to all 3G and 4GLTE smartphones.
Sprint remains the only major U.S. carrier to offer unlimited data for iPhone users, and the carrier has indicated that it will continue to do so for the next-generation device, even if it supports 4G LTE networks that could lead to consumers using more data capacity.