Apple Takes Possession of iPhone5.com Domain
Earlier this month, we noted that Apple had filed a claim with the World Intellectual Property Organization (WIPO) seeking to gain ownership of the iPhone5.com domain, which had hosted a small independent discussion forum for the past year and a half.
The Next Web now reports that the case has been terminated, indicating that the dispute has been resolved without WIPO having had to render a decision. The domain is now under the control of brand protection firm Corporation Service Company, presumably on Apple's behalf, and simply displays a blank page.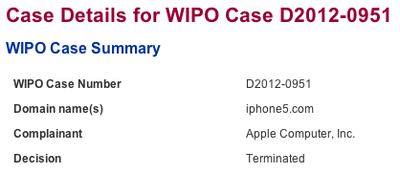 Apple's move to take possession of the iPhone5.com domain naturally fuels speculation that it will use the name for its next-generation iPhone, although that is not necessarily the case. Given the popularity of the name within discussions of the future iPhone, Apple may simply be protecting its iPhone trademarks while also seeking to control content at what is likely to be a popular destination for those searching for information on the company's products.
For those curious about iPhone6.com, the domain has changed hands several times, having first been registered in 2007 by an individual in Dubai who later transferred it to an owner in South Korea. But since mid-2010, ownership information for the domain has been kept private and there is currently no site associated with the address.