Apple Seeks to Gain Control of iPhone5.com Domain
While there has been much debate about whether Apple will refer to the next-generation iPhone as "iPhone 5", "iPhone 6", simply "iPhone", or something else entirely, Fusible notes that Apple has filed a claim with the World Intellectual Property Organization (WIPO) seeking to gain control of the iPhone5.com domain. WIPO authorities are currently assessing compliance of Apple's claim with the agency's regulations, and proceedings are likely to be initiated in the near future.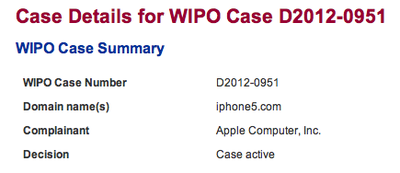 The iPhone5.com domain currently hosts a very small discussion forum dedicated to discussion of the "iPhone 5". The forum was launched in October 2010 following the debut of the iPhone 4 earlier in the year.


Apple's pursuit of the iPhone5.com domain is interesting given how slow the company has been to take action to secure domains related to its previous products. Apple didn't gain control of iPhone4.com until nearly a year after that device launched and Apple didn't seek to gain control of iPhone4S.com until several weeks after that device debuted last October. In the latter case, Apple was likely extremely motivated to take control of the domain because it was being used to forward visitors to pornography sites.
Given that Apple typically doesn't pursue domain names for its products until after they launch, lest their names be revealed ahead of time by the negotiation process, it seems odd that Apple is already seeking to gain control of iPhone5.com. But with "iPhone 5" having been the name informally attached to Apple's next iPhone form factor redesign for nearly two years now and still in popular use, the company apparently believes that it should have some control over the name's usage.