Apple Again Encouraging Mac Developers to Sign Up for Developer ID Ahead of OS X Mountain Lion
Apple today sent out an email encouraging Mac developers to sign up for the company's Developer ID program so that their apps can be properly signed ahead of the launch of OS X Mountain Lion later this year. Mountain Lion's Gatekeeper feature gives users the ability to set limits on app installation, with the new "Developer ID" program providing a middle ground of security by which developers can certify that they are the developer behind a given application package.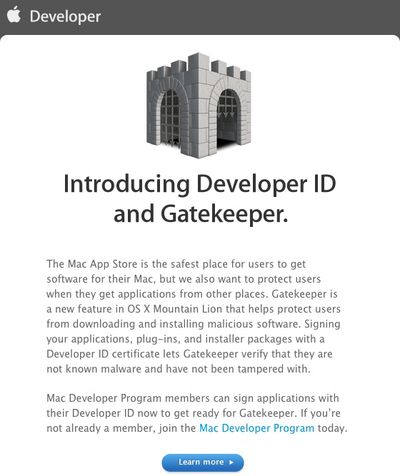 Should the developer be found to behave maliciously, Apple will be able to revoke the Developer ID associated with that developer, preventing applications signed with the ID from running and causing further harm to users.
The Mac App Store is the safest place for users to get software for their Mac, but we also want to protect users when they get applications from other places. Gatekeeper is a new feature in OS X Mountain Lion that helps protect users from downloading and installing malicious software. Signing your applications, plug-ins, and installer packages with a Developer ID certificate lets Gatekeeper verify that they are not known malware and have not been tampered with.
This marks the second such mass emailing to encourage adoption of Developer ID among the Mac developer community, as Apple sent out a similar mailing back in late February following its announcement of OS X Mountain Lion. The next major operating system is due for public launch in "late summer" and will undoubtedly be a featured topic at Apple's sold-out Worldwide Developers Conference in early June.