iPhone Activations Drop 43% at AT&T, But Represent 60% of Total Postpaid Phone Sales
AT&T today announced its financial results for the first quarter of 2012, revealing that it activated 4.3 million iPhones during the quarter. The number marks a substantial drop from the 7.6 million iPhones activated last quarter for the launch of the iPhone 4S, but still easily tops Verizon's 3.2 million iPhones sold during the first quarter.
Both Android and iPhone device sales remain strong. iPhone sales were helped by AT&T's 4G network, which lets iPhone 4S download three-times faster than other U.S. carriers' networks. In the quarter, the company activated 4.3 million iPhones, with 21 percent new to AT&T.
While AT&T's activations and sales can not quite be directly compared because activations includes used devices being reactivated on new accounts, AT&T has told us that this is a small difference. Consequently, AT&T's 4.3 million iPhone activations likely corresponds to approximately 75% of its total smartphone sales of 5.5 million units for the quarter.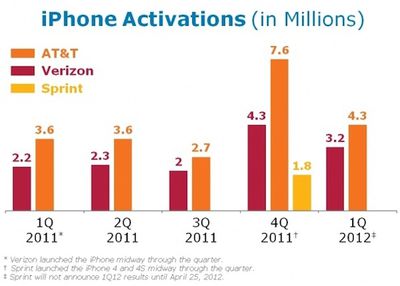 Even more impressively, the continued trend toward smartphone adoption means that the iPhone is representing a growing proportion of total phone sales (smartphone and non-smartphone) at AT&T. The carrier notes that smartphones represented more than 78% of its total phone sales to postpaid customers, meaning that the iPhone accounted for roughly 60% of AT&T's total phone sales to those customers during the quarter.
The significant drop in iPhone activations for AT&T combined with the significant drop at Verizon are weighing on Apple's stock this morning, with the already-weakened share price down another $10 as trading opens for the day. But while investors appear nervous about Apple's iPhone sales numbers for the quarter, the primary driver will be international sales as Apple increased distribution during the quarter. China is by far the largest component to that equation, with the iPhone 4S not only having launched on China Unicom early in the quarter but also having been added by China Telecom in early March.
Apple will report its quarterly financial results after the close of trading today, at approximately 4:30 PM Eastern Time.