Intel Looking Toward Retina Display PCs by 2013
As reported by Liliputing (via Electronista), Intel is envisioning the high-resolution "Retina" displays pushed by Apple in its iOS devices as the future of PCs, with comments at its Intel Developer Forum in Beijing noting that the company is supporting those plans with its chips.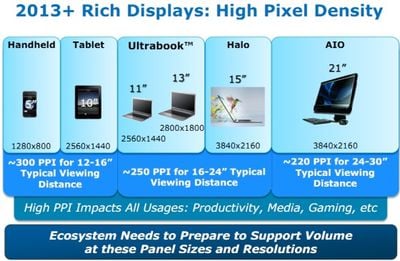 Specifically, Intel sees handheld and tablet devices targeting resolutions in the range of 300 pixels per inch (ppi), while notebook computers target roughly 250 ppi and all-in-one desktop computers register around 220 ppi.
So here's what Intel sees happening in the computer space over the next few years:

- Phones and media players with 5 inch, 1280 x 800 pixel displays (this is already happening)
- Tablets with 10 inch, 2560 x 1440 pixel displays
- Ultrabooks with 11 inch, 2560 x 1440 pixel displays
- Ultrabooks with 13 inch, 2800 x 1800 pixel displays
- Laptops with 15 inch, 3840 x 2160 pixel displays
- All-in-one desktops with 3840 x 2160 pixel displays
As noted by 9to5Mac, Intel executive Kirk Skaugen specifically referred to these displays by the "Retina" term coined by Apple at the introduction of the iPhone 4 back in 2010. In his presentation, Skaugen mentioned that Intel's third-generation Core i-Series processors (also known as Ivy Bridge) will support Retina displays if manufacturers choose to offer them. This support is not new, however, as he also noted that the current second-generation Core i-Series chips (Sandy Bridge) also support Retina displays, although Ivy Bridge will mark a significant leap forward in graphics support.
Apple is of course rumored to be working toward releasing Retina-capable Macs, as evidenced by support for the "HiDPI" mode showing up in OS X Lion and Mountain Lion. Rumors have suggested that an updated 15-inch MacBook Pro set to appear in the near future could indeed carry a 2880x1800 screen capable of utilizing HiDPI mode to display sharper content.