HiDPI Retina Images in Mountain Lion, Already Functional in OS X Lion
ArsTechnica reports on the discovery of Retina-sized artwork in OS X Mountain Lion's.
A source with access to the latest Mountain Lion preview alerted Ars that double-sized graphics have popped up in some unexpected places, once again suggesting that Apple may be close to releasing MacBooks with high pixel-density screens.
We'd previously spotted these same Retina-sized graphics in the Lion beta of Apple's new Messages application.
As well, we've found in our testing that Apple's HiDPI mode in Lion is already fully functional and will use the Retina assets appropriately. These screens show the Lion Messages app running in HiDPI mode.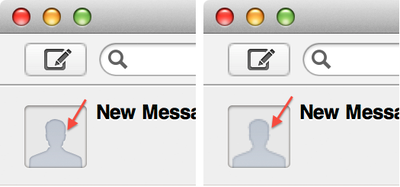 HiDPI mode on OS X 10.7. Left: Retina enabled, Right: Non-Retina
The left image shows that Lion with HiDPI mode enabled uses the full resolution Retina artwork from the Messages app to improve the pixel sharpness of the images. When the Retina assets are selectively removed from the app (right), you can see it fall back to the normal non-Retina images bundled.
Users will be able to test this themselves to full effect when Air Display is updated to support Mac HiDPI mode on the new iPad. Apple's Messages Beta for Lion is one of the few Mac applications that are already Retina-enabled to a large degree. Some elements, such as font rendering will automatically scale upwards as it does on the iPad.