An Inside Look at How iPads Are Assembled and Tested
Rob Schmitz of public radio show Marketplace played a key role in debunking a number of Mike Daisey's claims about his trip to China to see working conditions at Apple's manufacturing partner Foxconn. As part of his investigation, Schmitz tracked down Daisey's translator and learned that a number of the experiences Daisey related as part of his "The Agony and Ecstasy of Steve Jobs" theater monologue never happened.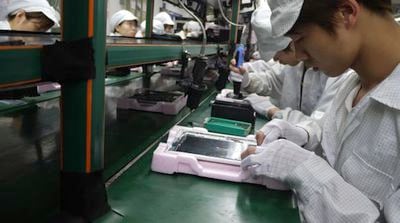 Foxconn workers assembling iPads (Rob Schmitz/Marketplace)
Following his exposure of Daisey's fabrications, Schmitz has been given access to Foxconn's plants, and he has been
filing some reports
about what he has seen in those facilities. Among the most interesting contributions is a brief video posted yesterday showing for the first time several of the steps in assembling and testing an iPad.
Marketplace
has aired a number of segments interviewing Schmitz about his visits to Foxconn's plants, where has described working conditions and talked with workers about their experiences. Many note that the work is boring and repetitive and that they are sometimes treated like machines, but most seem to acknowledge that Foxconn offers better opportunities than many of the other factories.