'This American Life' Retracts Show on Foxconn Working Conditions over Fabricated Claims
Back in January, popular radio show This American Life aired an episode dedicated to working conditions at Foxconn's factories in China, drawing heavily from Mike Daisey's theater monologue entitled "The Agony and Ecstasy of Steve Jobs". In the monologue, which has been a notable part of the push to address working conditions at Apple's suppliers, Daisey relates tales from his visit to China where he met with Foxconn workers.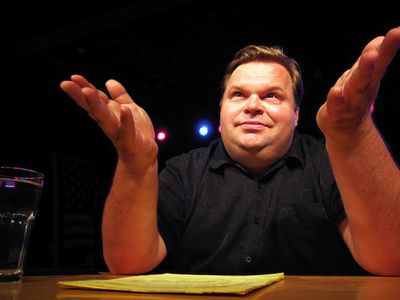 In a remarkable reversal, This American Life has now announced that it is retracting its January broadcast of Daisey's content, citing a number of fabrications discovered in a follow-up investigation on his claims.
The China correspondent for the public radio show Marketplace tracked down the interpreter that Daisey hired when he visited Shenzhen China. The interpreter disputed much of what Daisey has been saying on stage and on our show. [...]

Daisey lied to me and to This American Life producer Brian Reed during the fact checking we did on the story, before it was broadcast. That doesn't excuse the fact that we never should've put this on the air. In the end, this was our mistake.
An accompanying press release relates a number of Daisey's claims that were shown to be false, from claims of having met workers injured by use n-hexane to an anecdote in which he described meeting a man who had had his hand mangled in equipment while producing the iPad and showing the man a functional iPad for the first time.
Daisey reportedly lied to This American Life's staff when asked for contact information for the interpreter he used during his travels, but once the interpreter was found through other means his story began to come apart.
For his part, Daisey acknowledges that some of the information he presented was not entirely truthful, arguing that his monologue was created for theater. Consequently, he agrees that it should not have been presented as journalism, although he stands behind the intent of his work.
I stand by my work. My show is a theatrical piece whose goal is to create a human connection between our gorgeous devices and the brutal circumstances from which they emerge. It uses a combination of fact, memoir, and dramatic license to tell its story, and I believe it does so with integrity. Certainly, the comprehensive investigations undertaken by The New York Times and a number of labor rights groups to document conditions in electronics manufacturing would seem to bear this out.

What I do is not journalism. The tools of the theater are not the same as the tools of journalism. For this reason, I regret that I allowed THIS AMERICAN LIFE to air an excerpt from my monologue. THIS AMERICAN LIFE is essentially a journalistic ­- not a theatrical ­- enterprise, and as such it operates under a different set of rules and expectations. But this is my only regret. I am proud that my work seems to have sparked a growing storm of attention and concern over the often appalling conditions under which many of the high-tech products we love so much are assembled in China.
This American Life is devoting the entirety of this week's episode to discussion of the fabrications present in the original report.
Update: Marketplace's Rob Schmitz has written an article addressing his efforts to investigate Daisey's claims.