Rumors of June Launch for Updated iMacs Begin to Build
Digitimes points to a report in Taiwan's Economic Daily News claiming that Apple is planning to introduce updated iMac models in June, a bit later than some had initially hoped given Intel's Ivy Bridge launch schedule that would see quad-core desktop processors launch at the end of this month.
PC ODM Quanta Computer and chassis supplier Foxconn Technology are expected to benefit from the launch of Apple's latest iMac desktops, which are set to launch in June with Intel's latest Ivy Bridge processors, according to a Chinese-language Economic Daily News (EDN) report citing sources from the upstream supply chain.
The report repeats a claim from earlier this week indicating that Apple will be using anti-reflective glass for the new iMac, and also suggests that updated MacBook Pro models are due "at the end of the second quarter".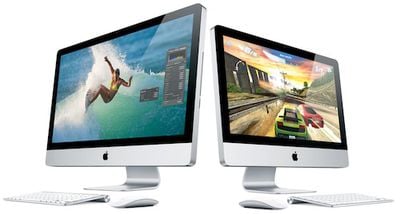 Unfortunately, Economic Daily News does not have a terribly good track record when it comes to Apple rumors, with past misses including an iPhone nano in 2009, a 7-inch iPad in 2010, and a Retina-display iPad by the end of 2011. But perhaps coming in support of the newspaper's claim of a June launch for updated iMac models, How to Arena earlier this week claimed a similar June-July timeframe for updated iMac models.
As for Economic Daily News' claim that Apple will be releasing MacBook Pro updates at the end of the quarter, which would mean late June, Apple's situation appears to be complicated by chip availability from Intel. While quad-core chips appropriate for the 15-inch and 17-inch MacBook Pro are said to be launching on April 29, dual-core chips viewed as successors to those used in the current 13-inch model do not appear to be launching until early June.
Recent reports have indicated that production on new 15-inch models has begun ramping up but that 13-inch MacBook Pro updates won't begin ramping until June, and it is unclear whether Apple would introduce the new 15-inch models before the 13-inch models are ready.