7-Inch iPad to Launch By Christmas?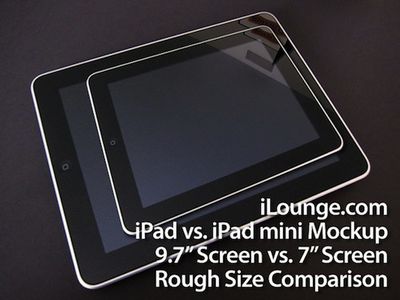 IDG News
translates a new Economic Daily News report that claims a 7" iPad will indeed be launched by Christmas of this year.
The Economic Daily reports that Taiwanese companies have won a number of component contracts for the iPad 2. Chimei Innolux will supply 7-inch LCD screens, which use the same IPS (in-plane switching) technology found in the original iPad, which improves viewing angles and color on LCD screens. Touchscreen technology for the screens will come from Cando Corporation, the report says.
While talk of a 7" iPad has been circulating for some time, it has recently regained the spotlight with a report from iLounge earlier this month. iLounge offered the above mock-up and suggested the 7" iPad would launch later this year or early next. Meanwhile, Digitimes also reported on the likelihood a 7" iPad just last week.
The currently shipping 9.7" iPad has been seen as a huge success selling 3.27 million units during the first quarter of sales.