Apple Gains Certification to Sell Brazilian-Assembled iPad 2, New iPad Certification Pending
Back in late February, we noted that Apple had begun selling Brazilian-assembled 8 GB iPhone 4 models in that country, yielding the first fruits from Foxconn's production lines starting up in the country. Foxconn has also been said to be gearing up for iPad production in Brazil, with domestic production of the iPhone and iPad providing a means by which Apple could avoid hefty import taxes in one of the world's most populous countries.
While Apple has yet to begin selling Brazilian-assembled versions of the iPhone 4S or even give any sign that it intends to do so, MacRumors has learned that Apple has been making better progress with the iPad. Specifically, the company has already received certification to sell Brazilian-assembled models of the 16 GB iPad 2 in Brazil alongside the current Chinese-assembled models. Apple already sells the full line of iPad 2 models in Brazil, but only the 16 GB models will continue to be available once the new iPad launches and it appears that Apple will be adding domestically-assembled models to the mix at that time.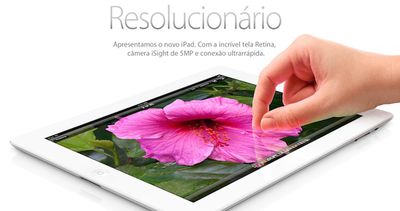 Regarding the new iPad, certifications for all models of the new iPad are still pending for both Brazilian- and Chinese-assembled models, but it is clear that the company is making preparations to launch the device with at least some domestic production in Brazil. Apple will, however, be unable to launch the new iPad in Brazil until appropriate certifications are received, and the company has yet to announce a launch date for the device.
As with the iPhone, Chinese-assembled versions of iPad models manufactured for sale in Brazil would carry the BZ/A suffix on their model numbers as seen with most Apple products in that market, while their Brazilian-assembled counterparts would carry a BR/A suffix.