Apple Now Selling Brazilian-Made iPhone 4, But Pricing Remains High
Foxconn's efforts to bring iPhone and iPad production to Brazil have seen significant attention in recent months, with the move being part of a strategy to diversify manufacturing locations and make the devices more affordable in the world's fifth most populous country by eliminating high import taxes. While much of the focus has been on getting iPad production up and running in Brazil, the company has already been working on iPhone production there, with an 8 GB iPhone 4 having leaked in late November.
The iPhone 4S and 8 GB iPhone 4 debuted in Brazil in mid-December, but early models were manufactured in China and carried very high pricing with the iPhone 4S starting at the equivalent of over $1400. With exchange rate fluctuations that figure is now over $1500, while the cheaper 8 GB iPhone 4 still comes in at a hefty $1050. The unlocked iPhone 4 is priced at $549 in the United States.
As noted by Meio Bit [Google translation], Apple has indeed begun selling the Brazilian-made 8 GB iPhone 4 through its online store in that country, as evidenced by manufacturing information on the box and the phone itself.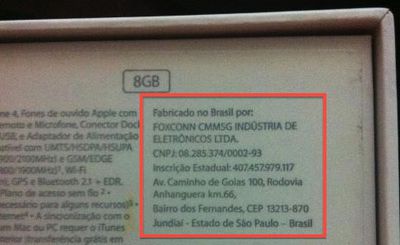 Apple's online store is also now referring to the black and white models as MD128BR/A and MD198BR/A respectively, with the MD198BR number having been seen on the previously-leaked iPhone 4 from Brazil. The Chinese-made 8 GB iPhone 4 had originally launched in Brazil with MD128BZ/A and MD198BZ/A model numbers. It is not clear exactly when Apple made the transition to selling Brazilian-manufactured iPhone 4 units, but it appears to have been at least several weeks ago.
But while Apple has now transitioned to selling domestically-manufactured iPhone 4 units in Brazil, pricing has yet to come down. It is unclear whether Apple and Foxconn have yet to meet all requirements or receive certification from the Brazilian government that would make the devices exempt from the hefty import taxes or if there are other factors in play.
Notably, the iPhone 4S does not yet appear to be being manufactured in Brazil, with those devices continuing to carry "BZ" model numbers identifying them as manufactured in China for the Brazilian market. The same appears to be true of the iPhone 3GS, which is priced at the equivalent of $700. Consequently, any adjustment in pricing for the Brazilian-made iPhone 4 would create inconsistencies across the company's iPhone line there due to the significant difference in import taxes, but it is unclear how Apple and Foxconn are planning to deal with this issue.