Teardown of New Apple TV Reveals Same 8 GB Flash Storage, Bump to 512 MB RAM
Following the release of the third-generation Apple TV late last week, one forum member at XBMC.org has performed a teardown of the device, revealing a number of details about its internals.
As Apple notes on the tech specs page for the new Apple TV, the device utilizes a unique single-core A5 system-on-a-chip, an upgrade from the A4 package found in the previous generation but lacking the dual-core processor found in the A5 chip used in the iPad 2 and iPhone 4S. The Apple TV teardown reveals a typical-looking A5 chip at first glance, carrying date codes suggesting it was manufactured during the seventh week of 2012, or mid-February.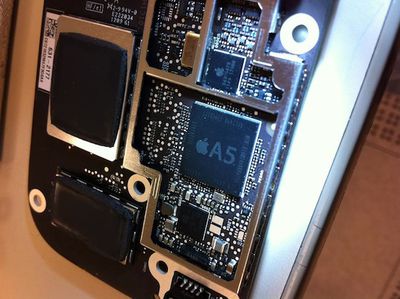 The processor inside the new Apple TV's A5 package is identified as APL2498, indicating a variation on the APL0498 processor found in the standard dual-core A5. The part number for the RAM included in the chip suggests that it is a 512 MB chip from Hynix, a boost from the 256 MB of RAM found in the A4 package on the previous-generation Apple TV.
As for flash storage, the format of the part number stamped on the chip implies that it is an 8 GB part from Toshiba, meaning that the device carries the same storage capacity as found in the previous-generation model. Given that the Apple TV is a streaming-only device, on-board storage is only required to support the operating system and buffering of streaming content.
There had been some speculation that Apple could boost the on-board storage in order to handle larger 1080p content supported on the updated model, but it appears that Apple still views 8 GB as sufficient given limited increases in file size for 1080p content. Maintaining 8 GB of on-board storage undoubtedly also helps Apple maintain the $99 pricing on the Apple TV given other improvements such as the A5 chip.
Finally, the new Apple TV appears to contain a second antenna that was not present in the previous-generation model, although it is unclear exactly how the new antenna is being used to improve performance.