3rd Generation iPad Launches Around the World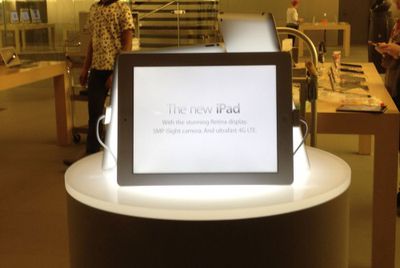 The 3rd Generation iPad continues to launch around the world to long lines in many locations. The iPad is launching in ten countries including the US, Australia, Canada, France, Germany, Hong Kong, Japan, Singapore, Switzerland and the UK.


Paris was the most impressive line photo we received. This photo at approximately 10pm local time showed hundreds lined up at Apple's Store in Paris. (Thanks Matthew)


Houston's new Highland Village Apple Store is being unveiled overnight just in time for the iPad 3 launch. (Thanks Matthew)


The U.S. got an early launch at Wal-Mart stores which started selling at 12:01 AM local time. From the few reports we received, lines and stock were relatively small. (Thanks Lee)

Finally, despite launch day availability, there are scalpers in Hong Kong already, looking to take advantage of any short supply. (Thanks Andy)
Those who pre-ordered the new iPad early enough should start receiving them on Friday. The new iPad will also be available in Apple Retail, Wal-Mart as well as Verizon and AT&T stores.