Rumored Houston Retail Store Grand Opening Sparks Speculation of iPad 3 Launch on March 16
The Houston Chronicle reports that Apple's forthcoming Highland Village retail store will be opening on Friday, March 16. According to the report's source, the store was originally scheduled to open in January, but delays in the construction schedule pushed the opening back to Saturday, March 17. But just weeks ago the opening was bumped up by a day to March 16, sparking speculation that the company is seeking to have the store open for an iPad 3 launch on that day.
The store, located in the Highland Village Shopping center at Westheimer and Drexel , was originally supposed to open in January, according to the source, but was delayed. March 17 was originally set as the new opening date, but the source said it was moved to the 16th a few weeks ago.
Apple retail store grand openings for the public typically take place on Saturdays, although they are occasionally held on different days of the week when special circumstances dictate.
An iPad 3 launch on March 16 would line up nicely with Apple's media event scheduled for next Wednesday, March 7, putting the launch nine days after the event. The exact same timing occurred last year with the iPad 2 being introduced on March 2 and debuting at 5:00 PM local time on March 11. Pre-orders were not available for the iPad 2, leaving those looking to get their hands on the device as soon as possible to line up for the limited launch stock.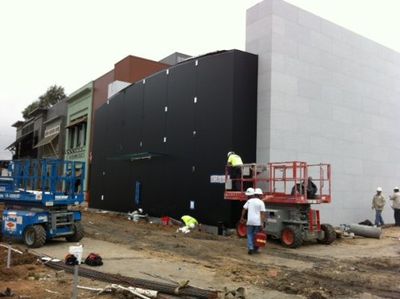 Photo by Dwight Silverman / Houston Chronicle
The Highland Village store is among the first of Apple's retail stores to be based on a prototype design from the company's
Upper West Side store
in Manhattan. Similar designs are in the works in
Santa Monica
and Palo Alto. Utilizing an all-glass roof and entrances at front and back, the Highland Village store will be the first of the Houston area's seven Apple retail stores to be located outside of a shopping mall.