New iPads Begin Showing Up in Third-Party Retailers' Stockrooms Ahead of Friday's Launch
With just two days to go until the launch of the new iPad, third-party retailer partners are apparently beginning to receive their stocks of the device. Engadget shares a photo of what is claimed to be several boxes of the new iPad that have arrived at a Best Buy location in the United States.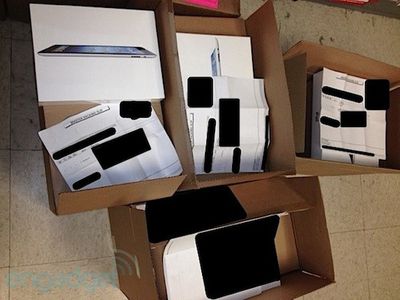 Meanwhile, another report claims that at least one PC World location in the United Kingdom has received its shipment, with the boxes "stacked up ready to go". For those looking forward to an in-store purchase on launch day in the UK, Pocket-lint claims that PC World may be a solid option with rumors that at least some of the chain's locations will be opening ahead of Apple's official 8:00 AM launch time.
Update: We're also hearing of iPad shipments arriving at John Lewis in the UK and at Target in the United States.