With the launch of iPhoto for iOS last Wednesday, it was quickly noted that the app was not using Google Maps for much of its mapping data, and it was soon revealed that Apple was using data from OpenStreetMap and other sources in the application.
Google Maps has had a prominent presence on the iPhone since its initial launch in 2007, but strained relationships between Google and Apple have seen Apple expressing interest in developing its own mapping solutions. Toward that end, Apple has acquired several mapping companies in recent years in order to beef up its expertise in the area.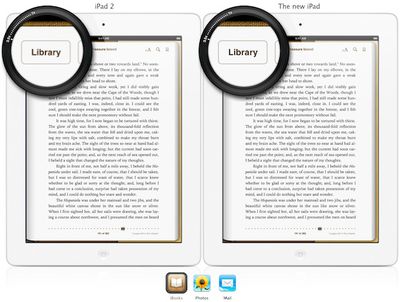 Side-by-side comparisons of iPad displays using iBooks, iPhoto, and Mail
AppleInsider
now
points to an interesting omission
on Apple's promotional pages for the new iPad, with a set of images comparing the device's Retina display with the display of the iPad 2 having specifically omitted a comparison of Google Maps even though the comparison images are posted on Apple's servers.
Viewing the file names of the "Retina Gallery" images shows that they are identified with numbers. AppleInsider reader Pierre-Arnaud pointed out on Tuesday that the iBooks images are labeled as "1" and screenshots of "Photos" are "2," but the images of the Mail application are saved with the "retina_gallery_4" filename.

That means the JPG files labeled "3" were originally planned as part of the imagery, but were eventually left out of the promotional material on the finalized website.
Those "3" files are present on Apple's servers and depict a Google Maps route in Paris.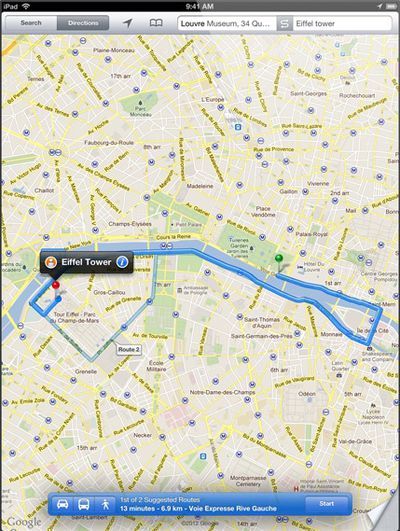 Google Maps photo present on Apple's servers but not used in side-by-side display comparison
Google Maps is not featured in any of Apple's promotional materials for the new iPad, suggesting that Apple is indeed trying to play down the role of Google Maps on the device. But whether this is indicative of a transition to Apple's own mapping services in the relatively near future remains unknown.
Update: As noted in the forum thread, the Google Maps comparison is present on Apple's promotional page in Hong Kong.