Verizon Including Mobile Hotspot in iPad Data Plans at No Additional Charge
GottaBeMobile reports that Verizon has officially announced that its data plans for the new iPad Wi-Fi + 4G will include mobile hotspot functionality at no additional charge. The feature allows users to share the device's cellular connection, broadcasting it as Wi-Fi signal that can be used to provide data connectivity for notebook computers and other devices.
What I didn't see when I went looking for [details] is how much extra mobile hotspot costs. On Verizon, adding this feature on phones adds an extra $20/month but also an extra 2GB of data, meaning you can get up to 12GB in a month if you're willing to pay $100.

However, a Verizon Wireless spokesperson informed me that for tablets (including the new iPad), the mobile hotspot feature is included in the data plan's price. iPad owners won't have to pay extra to activate mobile hotspot, even with the 1GB plan.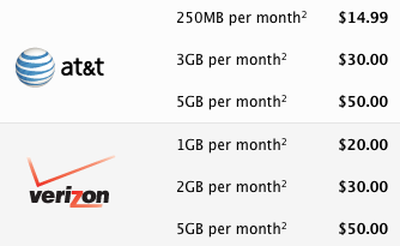 AT&T has yet to announce specific plans for mobile hotspot functionality on the new iPad, as a statement provided to 9to5Mac indicates that the carrier is "working with Apple" on the issue, but isn't offering this capability at all at the moment.