Apple's Stock Off to Fast Start in 2012 with 50-Point Gain in January
With stock trading for January coming to a close today, Apple's performance for the first month of 2012 has been notable, with the company's stock riding strong earnings to a monthly gain of over 50 points that has increased its price by nearly 13%. Much of that gain came alongside Apple's stellar earnings release one week ago, but Apple has continued to drift upward since that time and closed at yet another record high of $456.48 today after touching $458.24 early in the day's trading.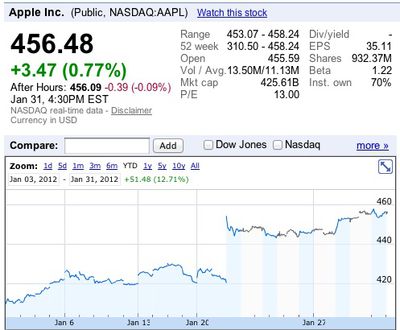 Apple's market capitalization now tops $425 billion, and a weakening of Exxon Mobil's stock price over the past week has enabled Apple to open up a nearly $25 billion lead in the race for world's most valuable publicly-traded company.