8 GB iPad 2 Coming Alongside 16 GB and 32 GB iPad 3 Next Week?
The sometimes-reliable DigiTimes reports that Apple is planning to launch a new 8 GB iPad 2 model next week alongside the iPad 3, presumably seeking to reduce costs to make the device as affordable as possible while also differentiating the offering from the iPad 3. The strategy is similar to one used by Apple for the last several generations of the iPhone, where the company has discontinued the standard 16 GB and 32 GB models of the device being updated and added an 8 GB model to serve as a low-end option for consumers.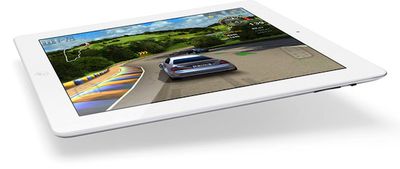 Today's report also claims, however, that Apple will be introducing 16 GB and 32 GB models of the iPad 3, making no mention of a 64 GB version or even a potential 128 GB version that some users have been hoping for. Both the original iPad and the iPad 2 top out at 64 GB, and even though Apple is trying to encourage adoption of its iCloud service to allow users to freely download content on-demand, a reduction in maximum capacity would be a very odd decision for Apple. With the iPad 3 expected to carry a 2048 x 1536 "Retina" display with four times the pixels of the iPad 2, the device would be capable of handling higher-resolution video and app content, which would obviously require larger file sizes.
As Apple has scheduled an event on March 7, sources from its upstream supply chain pointed out that the company is expected to launch two iPad 3 models - a 16GB version and 32GB version.

In addition to iPad 3, Apple is also expected to unveil an 8GB iPad 2, allowing the tablet PC series to cover different segments and to defend against Windows 8-based tablet PCs, the sources noted.
A shift to only two capacities for the iPad 3 would also seem to be at odds with part numbers said to be for the new device. Those part numbers show three "Good/Better/Best" versions of each new model, presumably corresponding to three different capacities.
Regardless of the accuracy of the report's iPad 3 claims, a move to an 8 GB iPad 2 is an interesting option that so far has not been the topic of much rumor or speculation. Most discussion has centered around the possibility of Apple keeping the 16 GB iPad 2 available at a price point of $399 or even lower, but a move to 8 GB would give Apple even more room to shift lower on pricing.