Japanese iTunes Store Enhancements: iTunes Plus, 3G Downloads, Ringtones, Complete My Album
Yesterday, we noted that the music component of iTunes in the Cloud was rolling out to Japanese users, allowing them to freely download any music content previously purchased from the iTunes Store. But as now summarized by 9to5Mac, various reports in the Japanese media reveal that the additions have been much more extensive and have brought Apple's Japanese iTunes Store offerings nearly on par with most of the company's other major markets.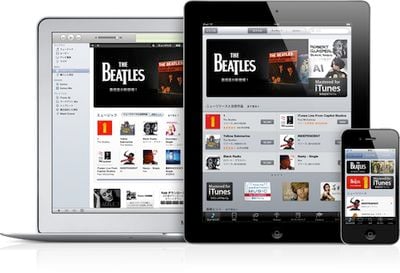 Highlighting some of the changes, Apple has posted a What's New page [Google translation] for iTunes on its Japanese site. The new additions include:
- 3G downloads: Music downloads from iOS devices had previously been restricted to Wi-Fi only, but users can now access content over 3G networks.
- iTunes Plus: The Japanese iTunes Store now supports the DRM-free 256 kbps iTunes Plus format, up from the previous 128 kbps versions carrying usage restrictions. Labels will need to upgrade their content to the new standard, so it may take some time for all music to become available in iTunes Plus format.
- Ringtones: Music ringtones are now available for purchase in the Japanese iTunes Store.
- Mastered for iTunes: Rolling out on a worldwide basis, Apple is now featuring songs and albums that have been specifically mastered for the iTunes Store to provide the best sound quality for the format.
- Complete My Album: Users who previously purchased individual tracks from an album can now purchase the entire album for a discounted price based on a credit for their individual-track purchases.
As for iTunes Match, Apple's subscription service currently available in 37 countries that allows users to either match or upload their entire music libraries regardless of source for access from any iCloud-enabled device, the company is reportedly planning to bring the program to Japan during the second half of 2012.