iTunes in the Cloud for Music Rolling Out in Japan, iTunes Match Coming Soon?
It has been just over a month since Apple's last round of expansion for its iTunes Match service, but it appears that the company may be preparing to add Japan to the mix.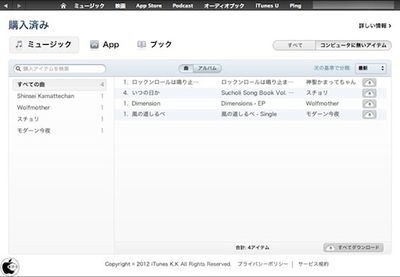 As noted by Mac Otakara, the "iTunes in the Cloud" music component has gone live in Japan, with the "Purchased" tab within the desktop iTunes Store and the iOS music application now allowing users to access their previously-purchased iTunes Store music. The iTunes in the Cloud service has until now been limited to apps and books in Japan.


Apple's iTunes Match service that allows users to match or upload their entire libraries of music acquired from any source to Apple's iCloud is a step further than the music re-download service just now rolling out. There are, however, currently no other countries in which Apple offers iTunes in the Cloud music capabilities without also offering iTunes Match. iTunes Match is currently available in 37 countries, and if iTunes in the Cloud music downloads are now appearing in Japan it seems that iTunes Match may not be far behind there.