Siri Admits To Speaking Japanese
Following up on an earlier rumor that Siri would soon support Mandarin Chinese, Russian and Japanese languages, 9to5Mac noticed that if Siri is actually asked what languages it supports, Japanese is listed as one of the options.
At launch, Siri could converse in the American, UK and Australian dialects of English, German and French.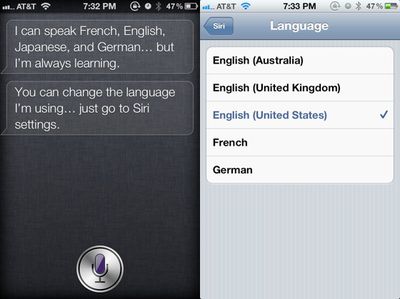 Contrary to what Siri claims, Japanese is not available as a choice in the Siri preferences pane. It's possible that Siri's additional languages will be launched with the iPad 3 launch next month. That launch is rumored to be set for March 7.