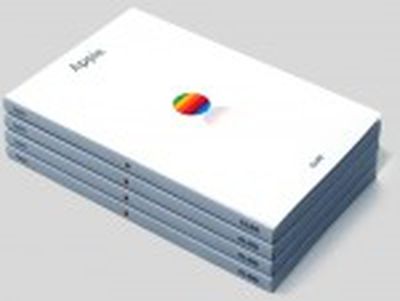 CLOG, a new quarterly architecture magazine, has opted to cover Apple in its just-published February 2012 issue. The magazine offers nearly 150 pages of stories and images about Apple and architecture, with coverage ranging from Steve Jobs' boyhood Eichler home to the company's forthcoming "spaceship campus" to Apple's network of over 350 retail stores around the world.
With one of the largest American office projects in history underway in Cupertino, CLOG : APPLE introduces the first comprehensive discussion of Apple's architecture.

CLOG : APPLE showcases over 50 international contributors, including architects, designers, cartoonists, comedians, engineers and other industry leaders. Highlights include an examination of Steve Jobs's Eichler-designed childhood home; the evolution of Apple's store designs; its leading role in innovative glass engineering; the symbolism and urban implications of the new Cupertino headquarters design; reactions to Apple Campus 2 by notable architects and critics; and an interview with one of Apple Computer's original three founders, Ronald Wayne.
The issue is a collection of brief essays, photos, illustrations, and other materials examining Apple from an architectural perspective. Among the features:
- An interview with Apple's third founder, Ron Wayne, addressing a number of topics including Wayne's design of the original Apple logo, Jobs' ambitions in his early days, and Wayne's thoughts on Apple's design and engineering work.
- A humor piece from Colbert Report writer Frank Lesser in which he examines what it would be like if Apple had to purchase a retail store design from a company like itself. In a letter from the fictional architecture firm responding to Apple's request for proposal for a store at the bottom of the Grand Canyon, Lesser promotes store features drawn from Apple's own mystique, including a staircase known as "FeetTime", rubberized covers to product the store's glass panels, and an Apple Store Care extended warranty program.
- A visual size comparison of Apple's planned "spaceship campus" in Cupertino to a number of landmarks around the world.


- An illustrative view of Apple's prototype store facade and how that facade is modified at certain locations to respond to site-specific constraints to provide a customized and yet still-familiar look for most of its stores.
- Two pieces from ifoAppleStore's Gary Allen discussing the evolution of Apple's retail store designs and using the 4th Street retail store in Berkeley, California as an example of the company's attention to detail.
- A number of redacted response letters from people and companies who refused to comment for the CLOG issue, primarily due to confidentiality agreements with Apple.
CLOG : APPLE is available from a handful of bookstores, or directly from the magazine's site at a price of $15 plus shipping ($5 U.S. and $10 international).