Apple Determines iTunes Match Royalties By Counting How Many Times A Song is Accessed
TuneCore president Jeff Price today wrote a blog post praising Apple's iTunes Match service for creating money "out of thin air" for copyright holders. iTunes Match launched with all the major record labels on board, but some small labels refused to participate over concerns the service was legitimizing music pirates.
Price disagrees:

A person has a song on her computer hard drive. She clicks on the song and plays it. No one is getting paid. The same person pays iTunes $25 for iMatch. She now clicks on the same song and plays it through her iMatch service. Copyright holders get paid.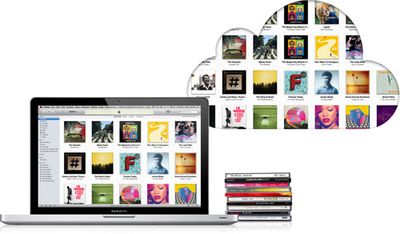 Price tells MacRumors that Apple keeps 30% of iTunes Match revenues for itself -- the same percentage the company keeps from the iTunes and App Stores. The remaining 70% is divided, with 88% going to record labels and 12% going to songwriters. The royalties are split amongst artists based on "how many times someone accesses your song" via iTunes Match and it doesn't matter if a song is matched or uploaded -- the royalty is paid either way.
Price and other record industry execs are thrilled with the iTunes Match service, and by extension, Apple. Not only are artists finally getting paid something for pirated music, but for legitimate song purchases they are getting paid twice. If a listener purchases a CD, rips it to their computer, and then uploads it to iTunes Match, the record company books revenue for both the purchase and the small cut they receive from iTunes Match.
Regarding other music services, Price says, Pandora or Spotify customers are "paying a fee to listen to Spotify's music collection." iTunes Match customers are "paying a fee to have access to [their] own music collection."