iTunes Match: $24.99/Year, Matches Ripped Tunes, Offers Them In The Cloud
Today, in addition to Lion, iOS 5 and the other iCloud features, Apple rolled out iTunes in the Cloud. The service is free for songs purchased through the iTunes Store, while a new "iTunes Match" service priced at $24.99/year extends the program to ripped music.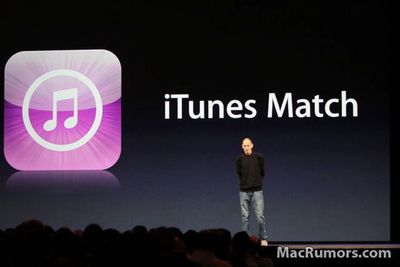 iCloud will attempt to ease the burden of syncing -- at least for songs purchased through iTunes. Previously-purchased songs will show up in a purchase history and any music purchased can be re-downloaded to any device at no additional charge. According to Steve Jobs, this is the "first time we've seen this in the music industry."
Using the new Automatic Downloads feature, content purchased via iTunes is pushed (not streamed) to mobile devices and vice versa. Users will consequently have all of their songs, automatically, wherever they are, on up to ten devices. The service is free for songs through the iTunes Store.
As far as ripped music, iTunes has 18 million songs in the music store and Apple will use a feature called iTunes Match to give users the same benefits on ripped songs matched to iTunes songs, as with purchased tracks. A user's library is scanned and matched and any songs that remain unmatched can be uploaded for syncing. Songs that are matched are upgraded to 256KBps, AAC, DRM-free, with all the benefits above, including push syncing and all the rest.
iTunes Match is priced at a flat rate of $24.99 per year, even for "20,000 songs."